Executive Summary
The founder of Snippet had seen the challenges of employees in financial trouble who were struggling to find loans or higher salaries.  They came up with a solution that would allow for employers to play a part in helping their own employees. The team at Atom rapidly delivered a proof of concept for Snippet's investors and helped to set Snippet up online. ​
Company Introduction​
Workers that struggle financially are more likely to switch jobs for a small increase in wages and replacing and retraining team members can cost more than twice the salary of the departing employee. Snippet uses specialised software and attentive servicing through a user-friendly interface to enable companies to help their workforce through salary loans and reduce employee attrition. ​
Through their website, employees can register, create an account, and submit a request for a loan, specifying the amount needed which employers can then review and accept. Employees can ease their financial stress, improve their credit score, and not have to worry about repayments which will be deducted from their salary over a period of time. ​
Problem​
Although the idea to help workers struggling financially to quickly gain loans was there, Snippet needed to quickly create a proof of concept for investors in order to receive funding swiftly and get started. ​
They needed the right team with a good business background to understand the exact requirements and deliver a proof of concept, without delays from a lack of comprehension, as they wanted to present their idea to markets in both Japan and the United States as soon as possible.​
​Solution​
The founder of Snippet knew and trusted Atom's Fintech background as he had worked with many of the team previously, and knew that they were the right people not just in terms of their technological experience, but also their ability to understand his business needs. ​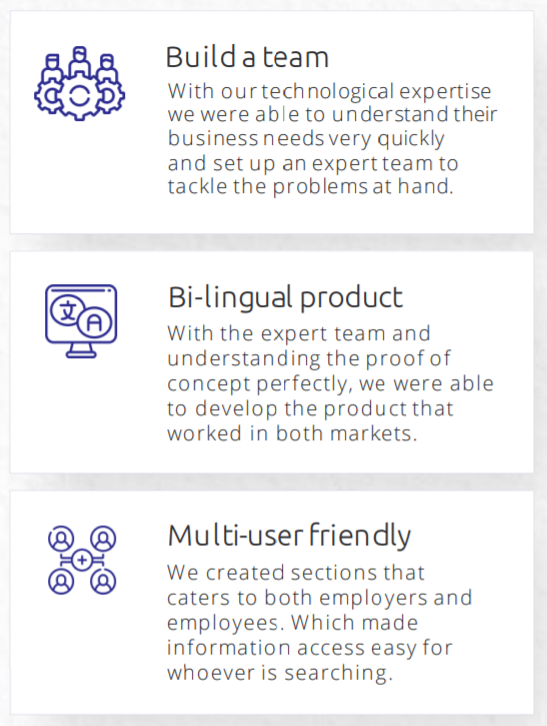 ​Atom were able to quickly put together a team to deliver and launch Snippet's proof of concept in English as well as create something that would work for the Japanese market once translated. The website has sections created for both employees and employers so that information on what the platform does exactly is available to whoever is searching and the steps to proceed are clearly outlined. ​
​Atom were able to deliver Snippet's proof of concept rapidly and efficiently over a 2 month period, allowing them to present the project to both investor markets they wanted to approach. They were able to receive the funding required to proceed to launch in both markets and ensure that struggling employees are able to receive the financial aid they need from their employers with little hassle or stress. ​
Check out Snippet Finance: snippetfinance.com
Listen to our podcast with ​Oliver Gabbay, Founder & Director of Snippet Finance by clicking link here
Find out how we can help you improve your business by booking a free consultation below: ​